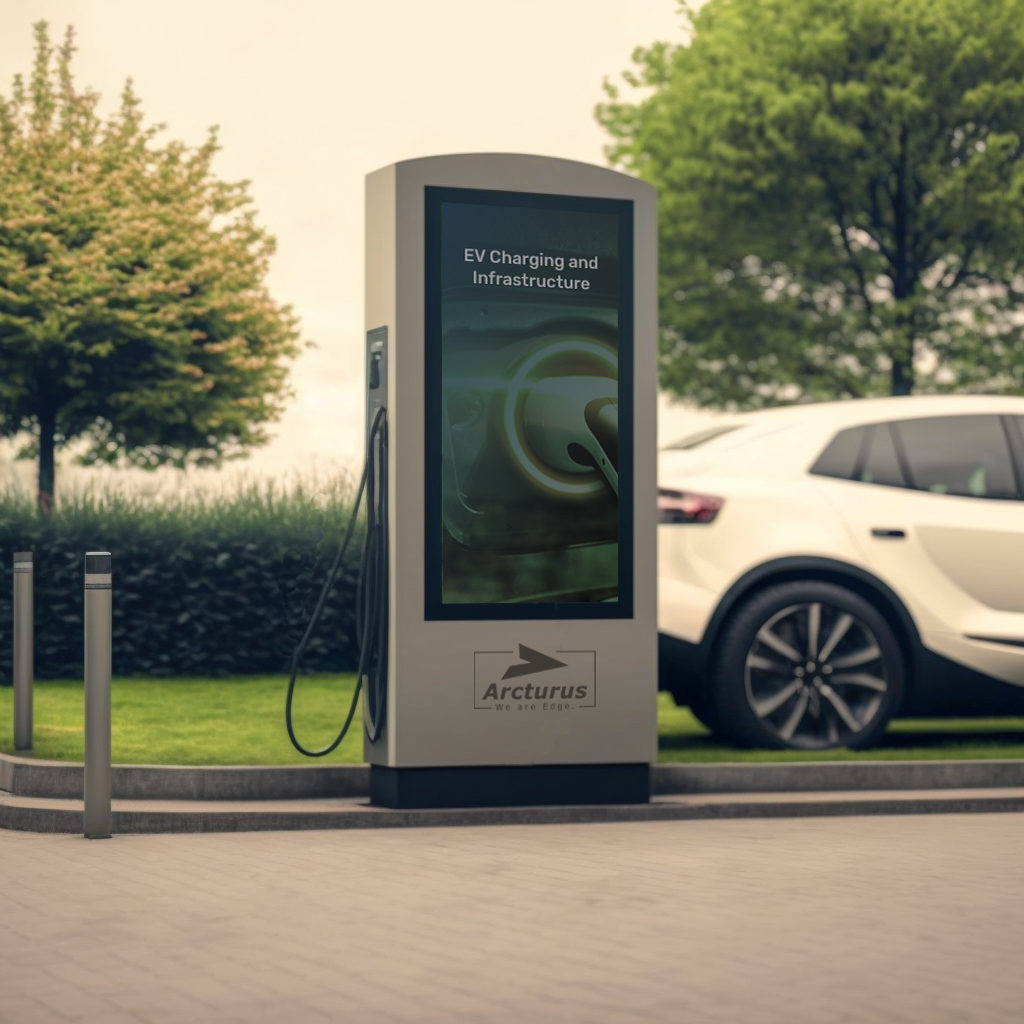 Arcturus Reimagines EV Charging With Edge AI, User Experience Analytics and Digital Out Of Home Advertising
Solutions Aim at Improving Safety, Security and Operational Service While Establishing New Revenue Generating Opportunities
Toronto — February 16, 2023 — Arcturus Networks Inc., a leading provider of edge AI and vision technologies for smart cities and transportation, today announced a new program to help manufacturers improve user experience and operational service in the public EV charger infrastructure market. The program aims at improving safety, security, user experience and operational service, while setting the stage for new revenue generating opportunities.  
The majority of EV charging occurs at home; however, road trips, busy schedules and limited access to charging infrastructure in rental or high-rise dwellings necessitates a mix of public and private infrastructure for seamless national-scale coverage. To address this in North America, the United States government has committed $7.5B of public money to build out a network of 500,000 chargers, while Canada has targeted $900M to expand existing networks.
"Growth in the EV charger market will fuel operator competition out past 2028" said David Steele, director of innovation at Arcturus. "The most successful operators will differentiate themselves through reputation and brand awareness, in the same way that data providers make claims on speed and reliability today".
Unlike traditional fuel stations, EV charging stations are unmanned, unprotected from elements and often located in remote areas such as the edge of parking lots. They are serviced "as needed" and often not visually monitored. This keeps operating costs low, but brings with it safety, security and service risks. Poor illumination can deter EV users from charging at night, while a lack of monitoring may result in damage, vandalism or obstruction going unnoticed –rendering a unit unusable, but not necessarily flagged as out of service by the operator. Inaccessible or unusable units create user frustration, costing operators both reputational damage and lost revenue.
Solutions for EV Charging and Infrastructure
Arcturus offers a suite of solutions that combine custom trained and optimized ML models, vision algorithms and edge hardware. The solutions range from vehicle approach detection capable of triggering welcome event illumination, to sophisticated obstruction detection methods to identify when a charger location is inaccessible. User experience monitoring applies specialized ML models that feed data into key performance indicators capable of predicting problems and triggering remediation.
Digital Out Of Home (DOOH) Advertising
As national roll-outs progress, public EV chargers will transform the street landscape, bringing with them curb-side connectivity and high-resolution displays. New advertising experiences will apply audience demographic information with other context (such as location or time of day) to deliver individually tailored experiences. To help EV charging operators take advantage of new digital out of home advertising streams, Arcturus provides advanced person detection, tracking and counting algorithms enabling accurate media impression insights along with real-time age and gender demographics.
Pricing and Availability
Solutions are available today, including Atlas scalable edge inference hardware with integration for NIVIDIA, NXP and Kinara processors. Relevant ML solutions include vehicle detection, vehicle type, make and license plate recognition (LPR); person detection, vehicle occupancy sensing, object tracking, counting, age, gender and emotion detection. Solutions are currently available as part of a system-level solutions engagement, for information on pricing contact Arcturus.
Additional Information
For more information and to view solution demos visit the EV Charging and Infrastructure solutions page.
About Arcturus
For over 20 years Arcturus has been an edge pioneer. From delivering some of the first embedded Linux ports and devices to our award-winning research and products, Arcturus is built on a legacy of innovation. Today, we offer a comprehensive portfolio of hardware, IP and enablement for connected voice, video, vision, AI and secure IoT systems.
For more information, visit https://www.arcturusnetworks.com/
Featured product: Brinq Edge AI and Vision Analytics.