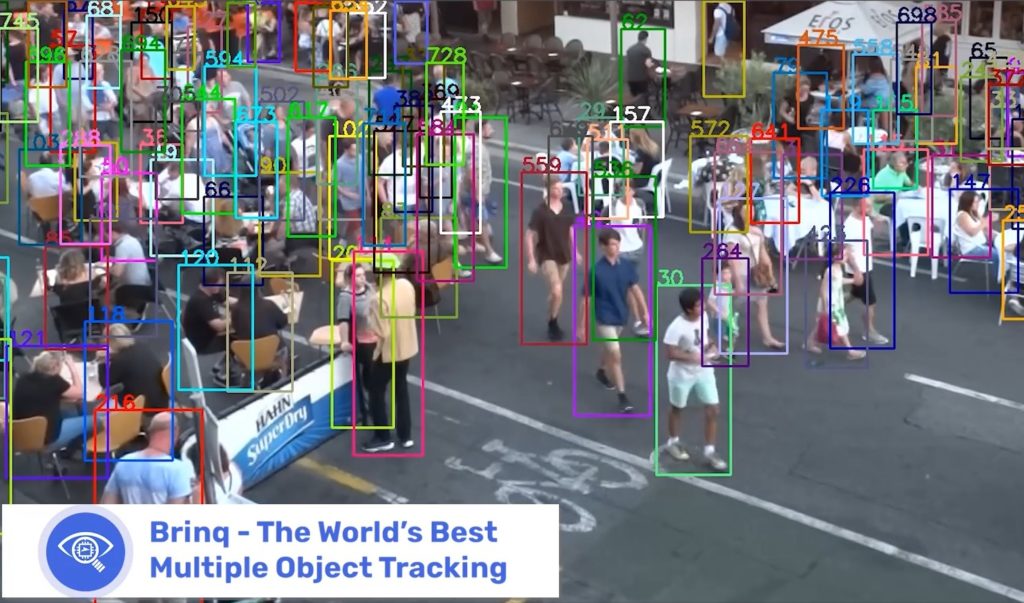 Arcturus Captures Top Position Globally in Multiple Object Tracking Challenge with Brinq Edge AI and Vision Software
MOT20 Benchmark Result for BrinqTraq_v2 Tracking Algorithm Demonstrates Clear Industry Leadership in Key Software Technology for Intelligent Video Analytics
Toronto — April 4, 2023 — Arcturus Networks Inc., a leading provider of edge AI analytics and enablement software today announced the 2023 results of its public submission to the global Multiple Object Tracking (MOT) Benchmark challenge competition. The MOT Benchmark provides a rigorous set of test criteria with a common evaluation tool used to compare state-of-the-art tracking methods. The challenge is organized by the Technical University of Munich (TUM) with submissions accepted globally from commercial, academic and research organizations. It is the preeminent industry benchmark for evaluating machine vision tracking algorithms.
This is the second year in a row Arcturus has participated in the competition. In 2022 Arcturus BrinqTraq (BQTQ) achieved a MOTA benchmark score of 77.2 for the MOT16 challenge and 77.7 for the MOT17 challenge, placing Brinq's tracking solutions in the top 10 globally for these competitions. In 2023, Arcturus submitted the updated BrinqTraq_v2 algorithm to the MOT20 challenge –the most complex of the MOT benchmark challenges.
"BrinqTraq_v2 represents a significant evolution in tracking", said David Steele director of innovation at Arcturus, "it combines a proprietary detection model with algorithmic enhancements to achieve better performance in higher density environments."
The 2023 result for the MOT20 benchmark challenge ranks BrinqTraq_v2 as number one globally with a MOTA score of 79.5, beating the closest competition by nearly a full point. The result clearly demonstrates the accuracy achieved by the BrinqTraq_v2 tracking algorithm, its performance relative to other implementations and its suitability for real-world applications.
Benchmark Results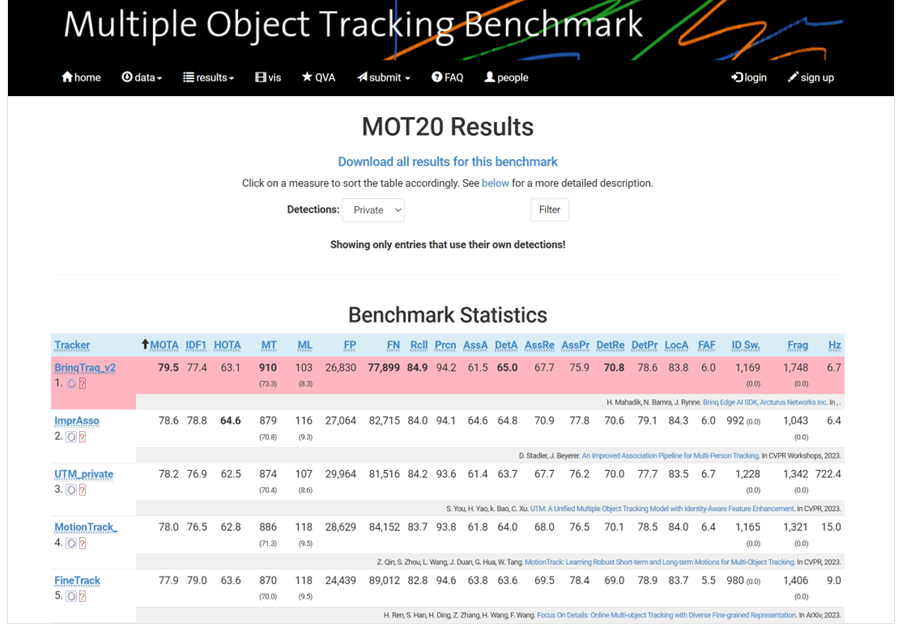 High Performance Tracking at the Edge
Tracking is a critical primitive that underpins a range of applications from people counting to smart retail to sports analytics. The design goal of BrinqTraq_v2 is to bring real-time, high accuracy tracking to constrained edge devices, including support for NVIDIA Jetson, NXP i.MX and Kinara processors. To achieve this BrinqTraq_v2 is designed to efficiently address varying complexity requirements using three performance tiers:
A low-complexity motion-prediction only method to address low-power or high-frame rate applications.
A medium-complexity motion-prediction solution that maintains tracklet data to achieve high-accuracy tracking even in situations with high object density.
A reidentification method that enhances the above approaches with a visual appearance embedding, making it possible to re-associate an object with a track when the motion track is lost.
Pricing and Availability
BrinqTraq_v2 is a proprietary tracking algorithm developed by Arcturus. It is a commercially available and supported component of Brinq Edge AI and Vision analytics software. Hardware support is available for leading edge platforms from NXP, NVIDIA and Kinara, including hardware acceleration for CPUs, NPUs and GPUs. Contact Arcturus for more information.
Additional Information
For additional product information refer to the Brinq product page. For MOT Benchmark assessment results refer to our demo video , read our whitepaper or contact Arcturus. Refer to the Multiple Object Tracking Benchmark challenge website for more information on the competition.
About Arcturus
For over 20 years Arcturus has been an edge pioneer. From delivering some of the first embedded Linux ports and devices to our award-winning research and products, Arcturus is built on a legacy of innovation. Today, we offer a comprehensive portfolio of hardware, IP and enablement for connected voice, video, vision, AI and secure IoT systems.
For more information, visit https://www.arcturusnetworks.com/
Featured product: Brinq Edge AI and Vision Analytics.