uCP1020
Edge and Communications Gateways
The uCP1020 module is a powerful Linux platform that combines a dual-core digital networking processor with all the necessary subsystems to simplify integration.
High performance data networking
No one wants a bottleneck. That's why we built the uCP1020 using a dual-core digital networking processor that's designed for high-throughput packet processing even under the most demanding conditions.
Advanced communication peripherals
Dual Gigabit Ethernet, configurable high-speed SERDES engines, and a hardware cryptography accelerator give you the connectivity and data routing performance you need.
Edge software that gives you the edge
With standard Linux platform support in Buildroot and available Mbarx Secure IoT gateway or digital PBX software stacks, unleash your next edge application with the uCP1020.
Applications
Get the performance and reliability demanding edge devices need.

IoT Gateways
Secure on-premises, remote site and cloud-edge connectivity
Telemetry data aggregation, caching and buffering
Remote site management and endpoint maintenance
Workflow and process control systems and supervision
Radio gateways and wireless access points

Voice / Video Communications
Infrastructure
Building access controllers, intercom gateways, IP-PBX
Public transportation vehicle communications controllers
Patient care and nurse call systems and gateways
Notification and wide-area public safety and PA systems

Secure Access and Connectivity
Edge access controllers, VPNs and secure gateways
Data aggregation, store / forward and preprocessing nodes
Network isolation, QoS, traffic shaping and routing
Wired, Wi-Fi, LTE and 802.15.4 communication bridging
Product Specifications
Easily integrated, Linux enabled with support and software stacks to get you to market.
uCP1020 module
Module host board, cables, power supply
Support site access (1 year)
Installation and maintenance support (1 year)
Documentation, integration schematics
Mbarx firmware with WebUI and Site Controller support
Mbarx System Manager tool (Win/Mac free trial)
Mbarx Virtual Control Panel tool (Win/Mac)
Hardware
Core Processor and Memory
NXP QorIQ P1020 dual-core processor (optional P2020 or P1010)
2 x 800MHz e500 v2 Power architecture cores
512MByte DDR3-SDRAM (optional 512MByte-4GByte) with ECC (Error Correction)
64MByte NOR Flash (optional 8-128MByte)
1MByte SPI flash (optional)
Optional 4-32GByte eMMC Flash
Connectivity and Peripherals
2x Gigabit Ethernet (IEEE-1588 compatible)
2x PCIe 1.0 (two lane)
2x SERDES
2x UARTs with flow control
USB 2.0 host
eSDHC
SPI, UART, I2C
Up to 9x GPIO, 3x IRQ inputs with 1x IRQ output
Physical and Ratings
+3.3VDC +/- 5% 6W max (TBR)
-40°C to +85°C parts rating
120-pin module mating connector (QSH-060-01-S-D-A)
80 x 80mm physical size
Software
System Software
Linux OS with standard networking, DHCP, DNS, NTP
Standard Buildroot platform support (downloadable) https://buildroot.org
Preinstalled Mbarx Secure IoT Firmware
Downloadable value add software
Mbarx Secure IoT
Device management, configuration and WebUI
TLS v1.2 encryption, x509 certificate authentication
OTA firmware updates
Auto firmware upgrades
Connection origination service (call home)
Configuration template/file provisioning
System alarms
Remote system logging
Factory reset
Host protocol for configuration/operation by UART or TCP/IP
Linux control application with integration example
802.1x port authentication (optional)
SNMP v2c (optional)
Compatible with Mbarx tools and gateways
Mbarx Secure IoT
Site Controller Gateway
IoT gateway capability
Auto firmware update service
Remote IoT site connectivity
Compatible with Mbarx endpoints, tools and gateways
VoIP Communications Server
(PBX) Firmware (optional)
Asterisk® PBX with FreePBX™ web management interface
Conference, voicemail and advanced call routing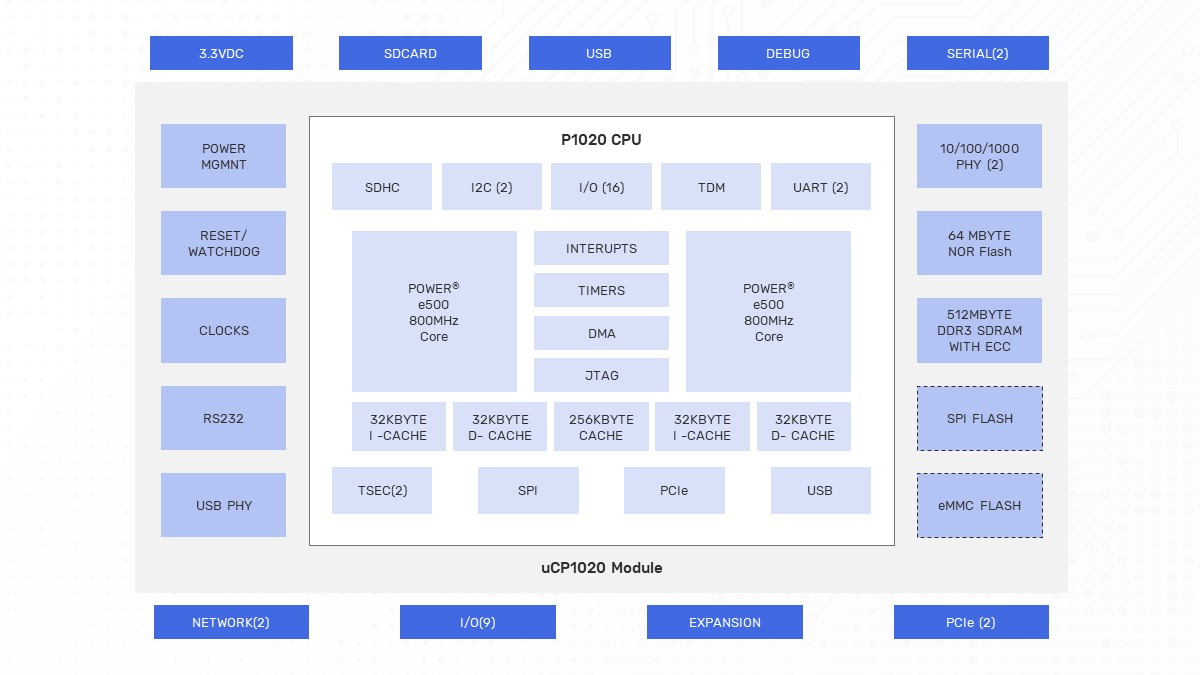 How uCP1020 works?
A quick introduction to the uCP1020 module built using an NXP QorIQ P1020, dual-core, digital networking processor.
Additional Information
Learn more about how uCP1020 can help you.