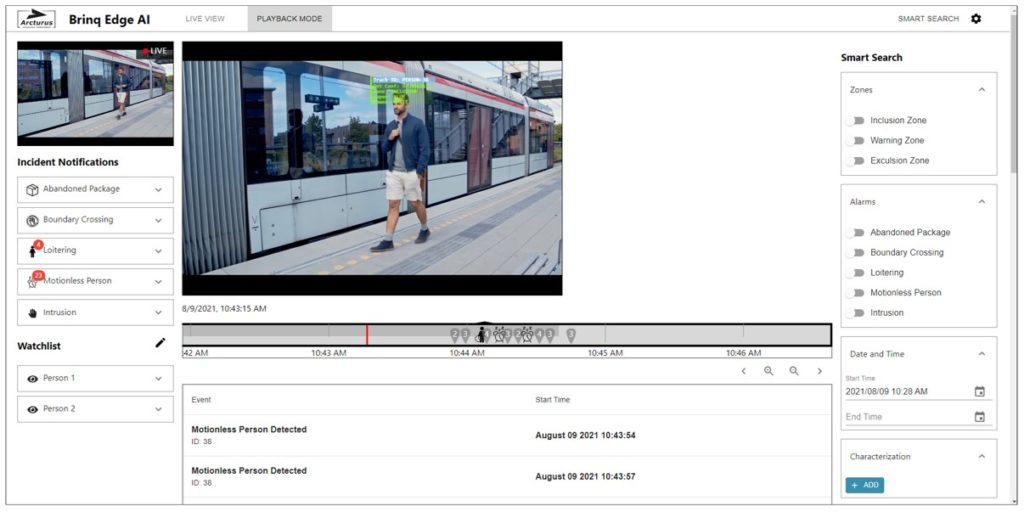 Arcturus Joins NVIDIA Metropolis, Developing Edge AI and Video Analytics Solutions for Smarter, Safer Cities
TORONTO – August 17, 2021 – Arcturus Networks Inc., provider of edge AI analytics and enablement for smart city applications, today announced it has joined NVIDIA Metropolis, a program designed to nurture and bring to market a new generation of applications and solutions that make the world's most important spaces and operations safer and more efficient with advancements in AI vision.
Arcturus uses the NVIDIA Jetson edge AI platform and NVIDIA TensorRT inference acceleration to power its Brinq™ Edge AI and Vision Analytics product line. This enables city-scale, video analytics and public safety applications that achieve real-time and cost-effective performance at the edge. NVIDIA GPU-accelerated Brinq applications provide the intelligence for transportation, smart city and smart healthcare applications through advanced tracking, characterization and behavior analysis.
NVIDIA Metropolis makes it easier and more cost effective for enterprises, governments, and integration partners to leverage world-class AI-enabled solutions to improve critical operational efficiency and safety problems. The NVIDIA Metropolis ecosystem contains a large and growing breadth of partners who are investing in the most advanced AI techniques, most efficient deployment platforms, and use an enterprise-class approach to their solutions. Partners have the opportunity to gain early access to NVIDIA platform updates to further enhance and accelerate their AI application development efforts. Further, the program offers the opportunity for partners to collaborate with industry-leading experts and other AI-driven organizations.
"By leveraging NVIDIA's extensive DeepStream enablement software and Jetson GPU-accelerated hardware we can achieve exceptional scalability and performance at the edge," said David Steele, director of innovation at Arcturus. "NVIDIA Metropolis gives us the performance we need to execute our analytics in real time, allowing us to realize the next generation of smart city applications."
About Arcturus
For over 20 years Arcturus has been an edge pioneer. From delivering some of the first embedded Linux ports and devices to our award-winning research and products, Arcturus is built on a legacy of innovation. Today, we offer a comprehensive portfolio of hardware, IP and enablement for connected voice, video, vision, AI and secure IoT systems.
For more information, visit https://www.arcturusnetworks.com/