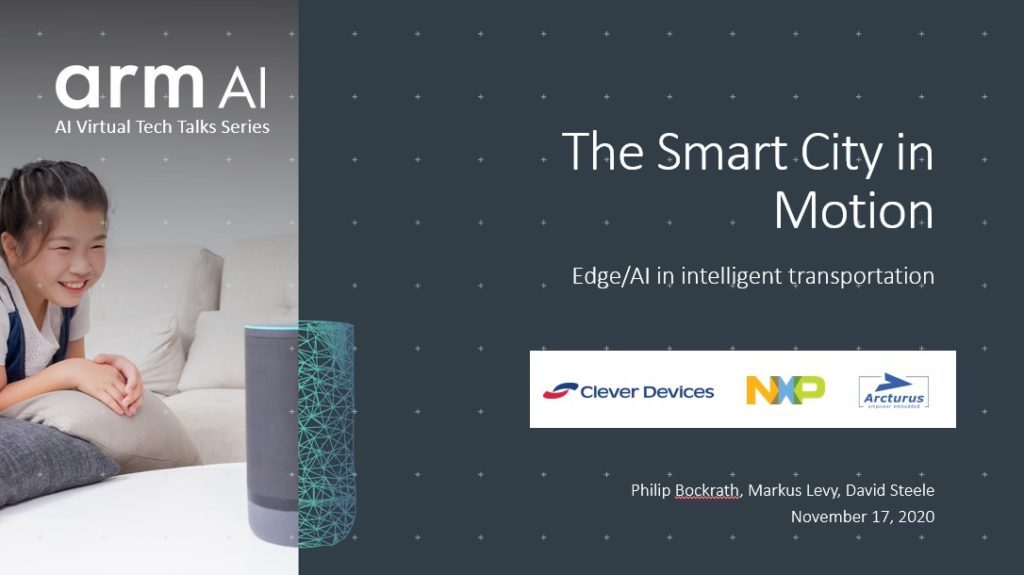 Arm AI Tech Talk: The Smart City in Motion – AI in intelligent transportation
Learn how Intelligent Transportation Systems and Edge AI are Empowering the Smart City
Smart cities move millions of people every day and they do it by relying on Intelligent Transportation Systems (ITS). This Arm AI Tech Talk brings together a powerhouse team including NXP, Arcturus and Clever Devices, North America's largest ITS solution provider. The session focuses on edge and AI in public transportation including real-world use cases in public safety and operations. You can learn first-hand from the experts about how solutions are implemented and catch a glimpse of where edge AI is heading. The talk also offers a sneak peek into Arm's latest offering focused on powering this new wave of edge AI.
Speakers
Philip Bockrath, Vice-President Wireless Technology, Clever Devices
Markus Levy, Director of Machine Learning Technologies, NXP Semiconductor
David Steele, Director of Innovation, Arcturus
For more information refer to Brinq Edge AI and Vision Analytics or contact us.